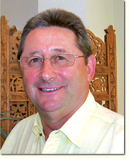 Alan Lucas,
The Moon Under Water
Alan Lucas has traveled the world and saw the potential of downtown St Petersburg's waterfront many years ago, while visiting friends.
Originally from Wales, Alan and his wife bought and renovated a downtown bed & breakfast, but soon saw the need for an authentic pub. Modeled after the Raffles Hotel in Singapore in 1987, The Moon Under Water was the first restaurant on Beach Dr, built from the ground up. "The Moon," as it's affectionately known, is a traditional pub with a tropical feel, like those found in the Far East. Under the daily guidance of operating partner, Mark Logan, The Moon is a favorite dining downtown destination & friendly pub. The menu particularly praised for its specialty curries. An abundance of indoor & outdoor seating makes The Moon enjoyable all year round, with outstanding waterfront views.
Alan remains dedicated to The Moon, which is the longest continually owned restaurant in downtown, though his background as a software developer has led him to a new venture. Combining his expertise as a restaurateur, he recently created a cost effective software called Nu-Facts. Be sure to try the Nu-Facts touch screen to make informed choices for lunch & dinner at The Moon. Alan & Mark invite you to The Moon to enjoy the views, the menu, the lively full bar & staff.
To learn more, visit www.themoonunderwater.com and www.nufactsusa.com