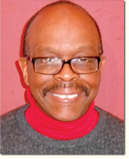 Bob Devin Jones,
Artistic Director The Studio@620
Bob Devin Jones and The Studio@620 are very excited to celebrate their 10th year beginning June 20, 2013. Mr. Jones is an accomplished writer, director & occasional actor.
Bob Devin is a native of Los Angeles and has been a Theatre worker for over 25 years. He began as an actor performing in Shakespeare Festivals. One of his favorites is when he directed Romeo and Juliet. A graduate of Loyola Marymount University he attended the American Conservatory in San Francisco and completed a one year tutorial at the Royal Academy of Dramatic Art in London, England.
While in California he met Lisa Powers who was the Artistic Director at American Stage. Lisa invited him to visit Florida and to consider adapting a play by August Strindberg to make it more contemporary. He visited St Petersburg in February 1997 and fell in love with the city and the community. He soon moved here in July 1997.
Bob Devin participates in many educational and cultural organizations. He's active on the boards of the Arts Center, American Stage Theater, Creative Clay, First Night, Creative Tampa Bay and St Pete Preservation. Bob Devin is the recipient of numerous awards and accolades including the Bank of America Local Hero Award.
The Studio@620 was born and developed by Bob Devin and David Ellis from the idea that art and diversity play a crucial role in the lives of individuals and communities.