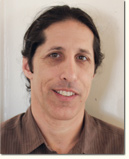 Jeff Schorr,
Craftsmen House
According to Peter Kagayama, local resident and author of "For The Love of Cities," a very small percentage of a city's residents make a city "a place" that others comes to love and enjoy through their contribution and involvement. Jeff Shorr is part of that small percentage.
 As a member of numerous boards and associations, Jeff is "dialed in" to the arts, history and business climate of St Pete. Jeff was also the creator of Keep St Pete Local, the new group that is promoting support local businesses. "St Pete's downtown remains unique because there are so many mom and pop unique businesses. If you have too many chain stores it becomes like everywhere else," Jeff says. He is also quick to point out that many more local independent galleries are cropping up in the "warehouse arts district," a group of galleries located in neighboring old warehouses.
In the creation of the Craftsmen House Jeff sought an unusual venue. He searched for an extended period, settling on an old bungalow in need of serious renovation, located a long distance from downtown. "I knew because there were no other galleries around us at the time that it would have to be a destination. We were here in the early days of the Grand Central District. That's why we added the cafe, which is popular with visitors and locals."
According to Jeff, the economy is definitely improving. 2011 was up from 2010, and 2012 is starting well. Craftsman House was awarded best new gallery in the country in 2009, and awarded 2011 top retailer in his revenue bracket by the Florida Retail Federation.