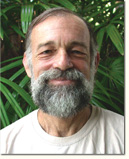 Peter Belmont,
President - St Petersburg Preservation
Peter Belmont first came here in the early 1970s to visit his grandmother, and learned to swim on
St Petersburg Beach.
Peter has lived in St Petersburg for over 35 years and his involvement with Saint Petersburg Preservation goes back to its formation in 1978. After graduating from Eckerd College he decided to stay here because he "liked the feel of it, with its wonderful collection of old buildings." When asked about his favorites, he discribes the open air post office as one of our great civic buildings, and our churches as hidden gems. Then, of course, there's the Vinoy.
It doesn't just represent one of our greatest buildings to Peter; it's also one of his greatest achievements. He was involved with the litigation to restore the Vinoy, which led to the City of St Petersburg committing to adopt the preservation ordinance.
Peter is all too familiar with litigation, and will soon be retiring as an attorney who has practiced criminal, environmental, and land use law.
It's not surprising to hear his passions about St Petersburg, including our waterfront parks and great neighborhoods, as he served as the chair of the Waterfront Parks Centennial Celebration steering committee and is also a director of the Downtown Neighborhood Association. Peter hopes the city will be more supportive of preservation because "it's important to retain our sense of place."
On many Saturday mornings he may be found leading historic walking tours sponsored by Saint Petersburg Preservation.