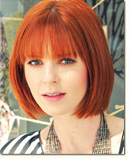 Sara Stonecipher,
Owner, MISRED Outfitters
Patti Rondolino established the original Designers Consigner on Beach Drive over 20 years ago, making it the first high-end consignment shop in Downtown
St Petersburg. Today, Patti's daughter, Sara Stonecipher, has established a successful business of her own, MISRED Outfitters.
In 2005 Sara signed on as Lead Advertising Stylist for Dillard's Southeast Headquarters. She then traveled the country representing Nila Shields (a Clearwater based Fashion House). In 2008 Sara studied under one of the top vintage fashion stylists in the industry, Marjorie Harper of theURBANcollection / CreateThatStyle.com. It was through this work with Marjorie that Sara refined her love of vintage and realized that vintage fashion was an extremely viable industry. Hence, MISRED Outfitters was born in February of 2010.
In addition to an ever-changing supply of highly curated vintage clothing, MISRED Outfitters has rapidly expanded into contract styling for photo shoots, music videos and fashion shows. They are home to the MISRED Reconstructed line, which updates and alters vintage pieces to reflect the current trends of the seasons. Her next endeavor is a new clothing line using recycled fabrics to create her own original designs.
Sara Stonecipher provides a wonderful example of a 3rd generation St Petersburg local who has given back to the local independent business scene. She has helped pioneer the 600 block of Central Avenue and has been an integral part of the emergence of the Central Arts District as a destination for both locals and visitors to the Downtown St Petersburg area.