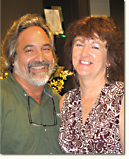 Susan and Michael Shapiro,
Shapiro's Gallery of Contemporary American Crafts
Susan and Michael Shapiro have long been a part of the St Petersburg arts community. From a small clay studio in the Shapiro's garage to their first downtown gallery and studio space on Central Avenue, which opened in 1998, Shapiro's Gallery has thrived. As interest in the gallery expanded, the selection of unique, hand-made contemporary American crafts did as well. Shapiro's Gallery now carries an array of clay art, jewelry, contemporary Judaica, kaleidoscopes, mobiles, pet accessories, glass pieces, and other distinctive gifts to fit any budget.
Residents since 1982, Susan and Mike have two children and live in Pinellas county. They are happy to support local charity organizations and remain active in the arts community. In late 2009 Shapiro's Gallery relocated to a new location at 300 Beach Drive, overlooking Straub Park. You can still purchase Susan's pottery as well as an expansive collection of handmade American crafts in a welcoming, friendly atmosphere. Mike and Susan invite you to come by and enjoy Shapiro's Gallery of Contemporary American Crafts today.