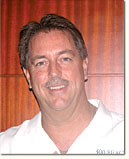 Steve Westphal,
400 Beach Seafood and Tap House
Steve Westphal is a long-time Pinellas county resident who is truly enjoying the best of both worlds. From humble beginnings at a renowned beach restaurant, Steve became a successful restaurateur. Though he still owns The Pub on Indian Shores, Steve and partner Chef Tyson Grant saw an opportunity to create an American steakhouse on Beach Drive. Parkshore Grill opened in 2006 to immediate acclaim and is still one of
St Petersburg's most popular restaurants.
A love of downtown has led Steve and Tyson to open a new dining destination on Beach Drive, the highly anticipated 400 Beach Seafood & Tap House. Boasting a menu of the freshest seafood, 400 Beach offers relaxed dining and a multitude of private party rooms. Both partners are committed to the local community and are happy to support as many local charities as possible.
Though often working on-site, Steve also enjoys all boating, surfing and SCUBA diving. His next venture, The Hangar Restaurant and Flight Lounge, is scheduled to open in Spring 2010. Breakfast, lunch, and dinner will be served daily, with guests enjoying unique skyline views, private dining areas and live music. While downtown, be sure to discover Steve Westphal's Parkshore Grill, 400 Beach and The Hangar Restaurant and Flight Lounge.