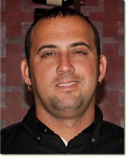 Chef Tony Siracusa,
Gratzzi Italian Grille
Chef Tony's love for cooking began as a child when he and his mother Maria made daily visits to the markets of Mangiafico, Sicily to find the freshest ingredients for their meals. That passion and devotion for freshness continues today in his role as Executive Chef and Partner at Gratzzi Italian Grille.
Chef Tony's cooking experience began at the age of 8 when he was taught by his grandmother how to make homemade pasta by rolling it out flat on her kitchen table. He also learned the secrets of making pizza and bread in a wood-burning fire oven in several of his relatives' restaurants in Sicily.
His current business partner Domenic D'Angelo opened Gratzzi in Baywalk in 2001, and Tony began as Executive Chef. In December 2010 they became partners and opened their current location at 211 2nd Street South in Downtown St Petersburg.
Tony and his wife Shannon have 4 wonderful children that can often be found helping at the restaurant, continuing the family tradition. Daughter Bella works as a hostess, and son Anthony helps Chef Tony in the kitchen. Daughters Giuliana and Gemma also help their sister, and their enthusiasm is always popular with the customers.
The current menu at Gratzzi has dishes to satisfy every palate. One of the favorites includes their original Cavatelli Bada Bing which you can view being prepared tableside on their website, www.GratzziGrille.com.