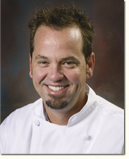 Chef Tyson Grant,
Parkshore Grill
Chef Tyson Grant quickly established himself as a "rising star" in Tampa Bay's burgeoning restaurant scene. Parkshore Grill is well known as
St Petersburg's premiere steakhouse and waterfront dining destination. Self-taught and widely traveled, with tours in Washington D.C. and the Turks & Caicos Islands, Tyson first won acclaim at The Grill at Feather Sound in Clearwater. His vision for updating American cuisine earned him the award for "Best Chef in Tampa Bay" in 2001. While continuing the success of Parkshore Grill, he has also created a diverse menu of seafood and relaxed dining fare at 400 Beach Seafood & Tap House.
Chef Tyson regularly partners with local organic farmers to create Chef-driven wine dinners that are truly a delight, while benefiting our community. Natives of
St Petersburg, Tyson and his family are deeply committed to Life 24, their charity for Bayfront Baby Place, and is proud to support numerous other local charities and arts organizations.
Be sure to discover Chef Tyson and his award winning creations at Parkshore Grill on Beach Drive!