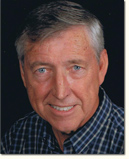 Will Michaels, Author
The Making of St Petersburg
Will Michaels, a St Petersburg Historian, has lived in St Petersburg for over forty years and has witnessed and documented the many changes in the City during that time.
Will is a graduate of George Washington University in Washington D.C. and holds a Doctorate in Anthropology from the University of South Florida. He was formerly Executive Director and Trustee of the St Petersburg Museum of History. Will has also served as President of St Petersburg Preservation and has taught local history at St Petersburg College. One of the many community activities that Will has been involved in is his service as a member of the Citizens Pier Advisory Task Force.
St Petersburg's Piers have long been the anchor of the downtown since 1889. The original Pier was 3,000 feet long and lined with loading docks and warehouses. The Municipal Recreation Pier was repaired after the 1921 hurricane and became known as the Million Dollar Pier. The Mediterranean Revival-style building was completed in 1926. In 1967 the Million Dollar Pier Casino building was demolished and replaced by the current inverted pyramid design in 1973.
Will's recent book, The Making of St Petersburg, details the history and development of the Piers and the many changes that has made St Petersburg the vibrant city that it is today.